Start your project right with our full-coverage primers.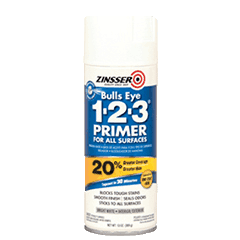 Bulls Eye 1-2-3 Water-Base Primer
This premium, whole-house primer-sealer provides outstanding performance indoors and out, with low odor, great flow and leveling and a flexible, acrylic formula.
Water-base primer-sealer
Interior and exterior
Sticks to all surfaces without sanding
Seals stains, graffiti and tannin bleed
Mold & mildew resistant film
Rust inhibitive – great for new metal
Fast 1 hour dry time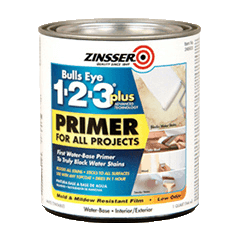 Bulls Eye 1-2-3 Plus Primer
This next-generation, zero-VOC, water-based formula is the one primer you need for every professional or DIY project.
Advanced Technology Primer
Great for all projects– interior and exterior
Completely blocks all stains- water, tannin bleed, smoke and more
Penetrates and seals porous surfaces
Takes the guesswork out of primer selection
Low-VOC, low odor water-base formula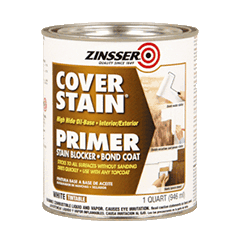 High Hide Cover-Stain Primer
This whole-house, oil-based primer-sealer blocks stains, hides dark colors, prevents tannin bleed and penetrates and seals exterior wood.
Oil-base primer-sealer
Interior and exterior
Blocks cedar & redwood bleed
Use for fire, smoke & water damage
Sticks to all surfaces without sanding
Fast drying – recoat in 2 hours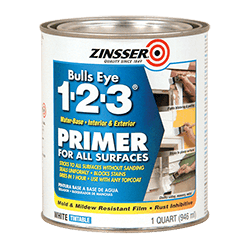 Bulls Eye 1-2-3 Spray
This whole-house primer-sealer features a high-output spray that seals porous surfaces like wood, drywall, cured plaster, and even concrete, stucco and brick.
Interior and exterior
All purpose, all surface primer-sealer
Great under or over any paint
Dries in minutes; topcoat in 30 minutes
High-output any angle comfort tip spray
Guaranteed one coat hide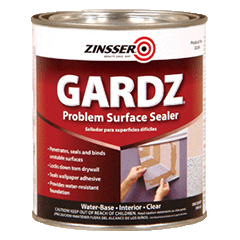 Gardz Problem Surface Sealer
This low-odor, water-based formula dries to a clear, matte finish, creating a hard, paintable seal over damaged drywall, adhesive residues and other chalky surfaces.
Repairs torn paper on damaged drywall, eliminates bubbles
Seals skim coats & spackling
Protects new drywall
Seals old wallpaper adhesive
Easy to apply, high spread rate, fast drying
Water-base, low odor, dries clear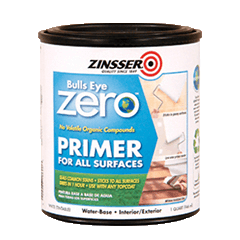 Bulls Eye Zero Primer-Sealer
This water-based primer contains no VOCs* and doesn't compromise on blocking, sealing or hiding power. Dries fast and smooth.
Zero VOC*, water-base formula
Sticks to all interior and exterior surfaces
Blocks and seals stains, graffiti and tannin bleed
Fast dry time – topcoat in 1 hour
Contributes toward satisfying Low Emitting Materials credit under LEED V4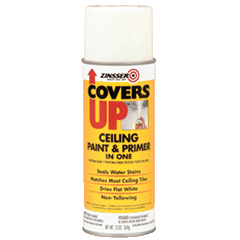 Covers Up Ceiling Paint & Primer In One
This ultra-convenient product features a vertical aerosol spray that kills stains and touches up ceiling paint in a single, smooth, even blast.
Vertical aerosol for overhead professional projects
Quick cure for water stains
Flat white finish matches most ceiling tiles
Great hide- non-yellowing
Low odor- all purpose interior use
Use under or over latex and oil base paints
Peel Stop Clear Binding Primer
This low-odor, water-based formula is highly recommended by painting professionals. Simply brush on to seal paint cracks, bind chalky residue and glue down peeling paint.
Interior & exterior water-base
Extend the life of problem surfaces
Binds cracking, chalking and peeling paint
Glues down cracks and gaps under edges of old paint