Along with cleaning and solvent products, Corotech offers block fillers for masonry and anti-slip aggregate for floor coatings.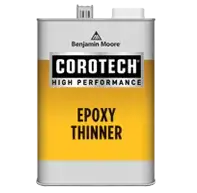 Epoxy Thinner V704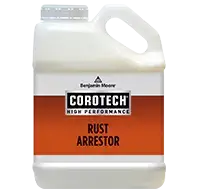 Rust Arrestor V180
Rust Arrestor V180
Rust Arrestor is a water-based, film-forming primer that chemically transforms rust, halting the corrosion process and enabling the surface to accept a topcoat. When applied over tightly adhering rust, it forms a black, protective film.
Chemically converts rust to inhibit corrosion
Forms a tight chemical bond to rusted surfaces
Penetrates into tight areas
Suitable for use in USDA inspected facilities
Can be top coated with latex, alkyd, urethane, or epoxy finishes
| | |
| --- | --- |
| Available Colors | N/A |
| Sheen (or Gloss) | Low Sheen |
| Cleanup | Soap and Water |
| Resin Type | Latex |
| Recommended Use | Interior, Exterior |
| VOC Level | 98.0 |
| Colorant Used | N/A |
| Color System Supported | N/A |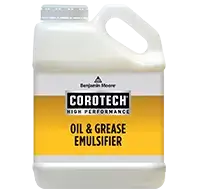 Oil & Grease Emulsifier V600
Oil & Grease Emulsifier V600
Oil & Grease Emulsifier is designed for cleaning walls, floors and equipment. This cleaner is extremely effective in removing oil, grease, fats, blood and animal by-products. It may also be used for cleaning concrete, asphalt, vinyl, metal, plastic, fiberglass, etc.; it is also very effective for cleaning equipment, tools, brushes, rollers and spray equipment.
Concentrated and must be mixed with water
Biodegradable and phosphate-free
Use on metal, fiberglass, vinyl, and masonry surfaces
Rinses clean with no residue
| | |
| --- | --- |
| Available Colors | N/A |
| Sheen (or Gloss) | Low Sheen |
| Cleanup | Soap and Water |
| Resin Type | N/A |
| Recommended Use | Interior, Exterior |
| VOC Level | 157.0 |
| Colorant Used | N/A |
| Color System Supported | N/A |